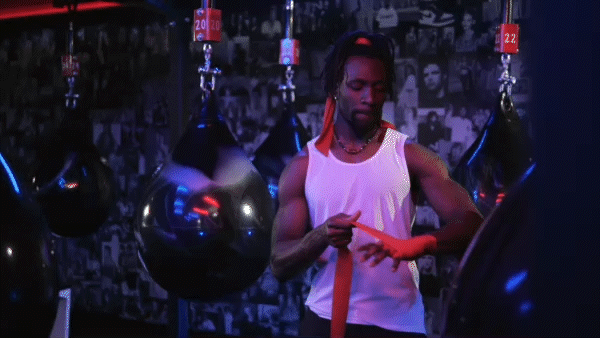 Ever wonder why wraps are needed in every Rumble class? When you hit the bag, your knuckles get the most impact, and that impact can build up over time and lead to problems down the line. Wraps provide an extra layer of padding that prevent your joints and bones from injury, making sure you can bring the heat to every single class.
Don't have wraps? No worries, we got you covered. Wraps are available for purchase at the front desk of your local studio. Yours to keep. Wrapping up can seem complicated at first, but with a little practice, you'll be wrapping like a pro in no time.
How To Wrap Your Hands in 13 Steps >>

STEP 1
Relax your hand with your fingers spread apart, palms facing down. Hook the loop around your thumb and make sure that the Jab and velcro is facing up.

STEP 2

Wrap over and around your wrist 4-5 times. Start 2-3 inches from below your wrist joint and wrap towards the top of your wrist.

STEP 3
Bring the wrap from the wrist (thumb side) up the back of your hand to across your palm.

STEP 4
Wrap the knuckles 3 to 4 times.

STEP 5
Bring the wrap down from your knuckles (pinky side), across your palm, to the base of your thumb.

STEP 6
Wrap around your thumb 2-4 times.

STEP 7
Move the wrap across the back of your hand, across your palm, then to your wrist (thumb side).

STEP 8
Now it's time to wrap the fingers. Bring the wrap up from the wrist to in-between your pinky and ring finger. Make sure the wrap doesn't get twisted as you're wrapping!

STEP 9
Bring the wrap back around your wrist and up between your ring and middle finger.

STEP 10
Wrap back around your wrist joint, then up between your middle and pointer finger.

STEP 11
Once your first 4 fingers are done, secure your knuckles. Take the wrap across the back of your hand to wrap around your palm and back to your knuckles. Wrap knuckles 3-4 more times.

STEP 12
Bring the wrap back down around your wrist (from pinky side to thumb side). Wrap all the remaining material around your wrist.

STEP 13
Fasten the Velcro and that's it, you're done!


Looking to get your hands on Rumble wraps of your own? Check out the retail boutique at your home studio.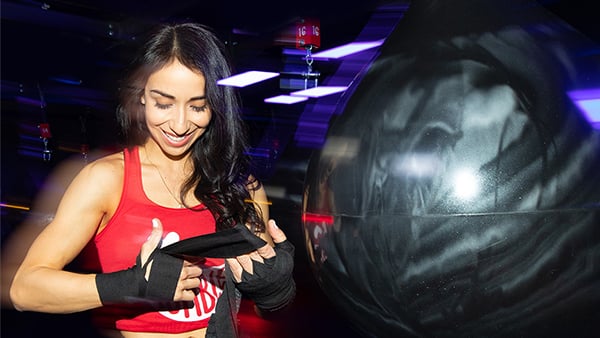 Want to give the Rumble workout a try? Buy your first class & get the second on us.


Bring the Thunder,
Jab